December, 2023 Prices may vary by location and are updated frequently.
Below are the latest Magic Kingdom ticket prices.
Item
Price

Standard Theme Park Ticket

Per Day

1-day ticket (Ages 10+)
$109.00
Disclaimer: PriceListo gathers actual pricing information from sources such as on-site visits, business websites, and phone interviews. The prices reported on this webpage derive from one or more of those sources. Naturally, the prices reported on this website may not be current, and may not apply to all locations of a given business brand. To obtain current pricing, contact the individual business location of interest to you.
Magic Kingdom prices provided by
PriceListo
.
About Magic Kingdom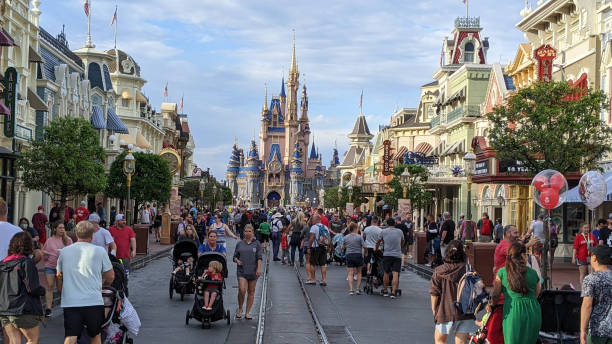 The Magic Kingdom is the first of the four theme parks built in the Walt Disney World Resort back in 1971. The park is dedicated to Disney's most famous characters and is symbolized by the Cinderella castle, and today the Magic Kingdom is visited by more than 17 million people annually, making it the most visited of all Disney parks.
Magic Kingdom is divided into six lands, each with its own distinct theme, namely Main Street USA, Adventureland, Frontierland, Liberty Square, Fantasyland and Tomorrowland with each having their own unique attractions. The entire park was built like a wheel with the hub at the Cinderella Castle with pathways leading to each land.
The Magic Kingdom was designed to be a bigger, better version of Disneyland in California. When the park first opened there were 23 attractions, but the number quickly increased as the years passed by.
Magic Kingdom prices are as follows. For ages 10 and above, a 1-day ticket costs $99. For kids ages 3 to 9, the price is $93. A 2-day ticket to the Magic Kingdom costs $94, the 3-day ticket $91, and the 4 day ticket $73. There are also 6 to 10 day tickets available.
For more information about Magic Kingdom, visit their official website.
Magic Kingdom YouTube