December, 2023 Prices may vary by location and are updated frequently.
Below are the latest Knotts Berry Farm ticket prices.
Item
Price

1-Day Ticket

Buy Online and Save $35 Off Gate Price! Online Price

Regular (Ages 12-61)
$54.00
Junior / Senior (Ages 3-11 & 62+)
$54.00

Season Passes

Regular Pass
$119.00
Gold Pass
$139.00
Platinum Pass
$198.00
Disclaimer: PriceListo gathers actual pricing information from sources such as on-site visits, business websites, and phone interviews. The prices reported on this webpage derive from one or more of those sources. Naturally, the prices reported on this website may not be current, and may not apply to all locations of a given business brand. To obtain current pricing, contact the individual business location of interest to you.
Knott's Berry Farm prices provided by
PriceListo
.
About Knotts Berry Farm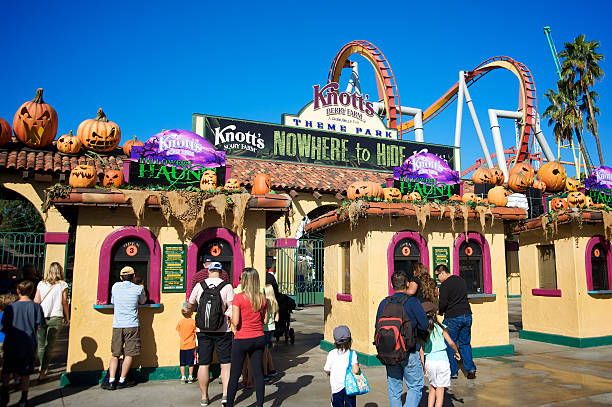 The Knotts Berry Farm is a theme park run by the Cedar Fair Entertainment Company and located in Buena Park, California. Following its opening in 1940, visitors to the park have been increasing steadily thanks to its mix of rides and roller coasters.
The theme park has 40 rides with various themes like family, water rides, children, historical rides and more. Currently the park is divided into five themed sections namely Indian Trails, Ghost Town, Camp Snoopy, the Boardwalk and Fiesta Village. The Ghost Town currently has two featured rides in the Wild Water Wilderness section, and one of the rides is the Bigfoot river rafting, while the other is the Pony Express, a roller coaster ride for the family.
The theme park is located on an old berry farm owned by Walter Knott, hence the name. It was around 1940 when Knott began building the Ghost Town, and it proved to be very popular with a lot of people so he started adding more attractions.
Knotts Berry Farm prices cost $39 for the pink ticket regular, $33 for Pink Ticket junior and senior, and the Good Any Day Regular is priced at $62. There is also a Good Day Any Day for juniors and seniors costing $33.
For more information about Knotts Berry Farm, visit their official website.
Knotts Berry Farm YouTube